Reduce Your Liability
According to the National Fire Protection Association, the majority of restaurant fires originate on kitchen cooking appliances and flare into the kitchen exhaust system.
Many low-end providers compete by offering low prices. It gets them in the door and puts cash in their pockets. They clean only what you can see but they do not resolve the fire hazard by cleaning your complete hood and exhaust system including all the duct work and the fan on the roof.
Do not fall into this trap and put your restaurant and patrons at risk! It's your responsibility to be up to NFPA-96 code requirements.
Has Your Hood System Really Been Cleaned...?
How Do You Know?
Fire Marshal David Creasy Sr. said "It is very easy for cleaning companies to clean the immediate area just above the cooking appliance and make someone think that the ductwork has been cleaned all the way to the exterior of the building.
What Proof Do You Have?
We have nothing to hide. To see what a real professional hood cleaning looks like, view our Before & After Pictures. Does your hood cleaner provide pictures? We do! It's the only way you can be certain.
Is Your Hood Cleaner Really Qualified?
Will you be liable if you have a fire? Make sure your hood cleaner is qualified. It's a RED FLAG if a cleaning company only mentions cleaning the hood instead of the whole system. Learn more about What to Look for in a Kitchen Hood Cleaning Company.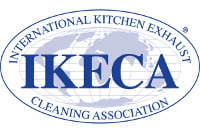 We are certified by IKECA (International Kitchen Exhaust Cleaning Association), an association representing kitchen exhaust cleaning specialists and inspectors of commercial kitchen exhaust systems. IKECA develops standards for cleaning, inspecting, and maintenance of commercial kitchen exhaust systems.
Free Inspection
Pressure Pro, Inc. wants you to know your system is cleaned to the NFPA 96 Standard. So, no matter who you have hired to clean your system. Pressure Pro, Inc. will provide you with a free photo inspection of your complete system.