About Us
Pressure Pro Inc. has been serving hood and exhaust systems since the late 1980's and is a leader in the industry. Here's why:
Superior Cleaning Process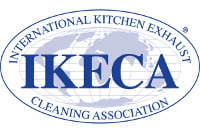 We are certified by IKECA (International Kitchen Exhaust Cleaning Association), an association representing kitchen exhaust cleaning specialists and inspectors of commercial kitchen exhaust systems. IKECA develops standards for cleaning, inspecting, and maintenance of commercial kitchen exhaust systems.
Our crews provide a complete cleaning of the entire system. We clean down to bare metal, and according to the standards found in NFPA-96, the International Mechanical Code and International Fire Code.
We cover all your equipment with 1 mil plastic to protect it and prevent any contamination of product. We take care to wipe down the back wall and outside of the hood, mop up any standing water that might remain as a result of the cleaning process.
We make sure that the filters are soaked. We remove your filters and soak them in a dip tank to remove all hidden grease and reinstall them.
We tilt the fans to access the fan blades and duct work. We open all inspection panels, clean, and replace them.
We perform a complete system inspection and provide you with a Certified Inspection Report and digital photos of your system, which you can view online. Request a free inspection.
Qualified Technicians
With 54% of all restaurant fires starting in the kitchen, it is more important than ever to make sure your hood and exhaust system is cleaned by properly trained, qualified and certified professionals who clean to the highest standards in the industry.
We train all of our staff to meet and exceed industry standards.
Our crew is passionate about doing the job right the first time, because proper cleaning and maintenance is an integral component of a good protection and safety program.
We maintain proper licensing, insurance, and certifications for our cleaning and inspecting crew.
Environmental Friendliness
We use 100% biodegradable cleaning compounds
We meet or exceed all state and federal guidelines
Our company operates by a personal code of environmental friendliness
Free Inspection
Pressure Pro, Inc. wants you to know your system is cleaned to the NFPA Standard. So, no matter who you have hired to clean your system. Pressure Pro, Inc. will provide you with a free photo inspection of your complete system.